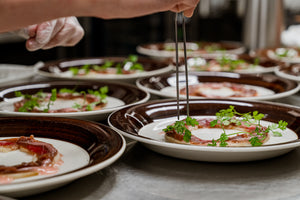 The base for this exquisite whisky menu are our treasured whiskies which are internationally valued and have won multiple awards. Each has their own unique profile in taste, scent and character. And each has the perfect pairs when it comes to other culinary delicacies.

Each dish in this menu is inspired by a certain whisky in our range. This particular whisky is enjoys while enjoying the food. Each pair has been carefully selected to compliment and to elevate each other.

On the Whisky Dinner days we make the whole day only about whisky: the distillery tour concentrates on making whisky and the guests get to also see our unforgettable million liter whisky barrel storage.
Whisky menu
Cold smoked duck breast, duck liver foam, vinaigrette and grilled pear

2cl of fine rye whisky


***

Ryeful risotto made from barn rye, meadowsweet sour cream and funnel chanterelle

2cl of fine rye whisky
Whisky menu
Roasted beef filee, butter sauce with sprig, poached potatoes, pickled celeriac and crispy jerusalem artichoke

2cl of fine rye whisky

***

Dark chocolate pudding, beetroot syrup and rye cookie

2cl of fine rye whisky

***

Coffee or tea

2cl of fine rye whisky
Information
The price for the Whisky Dinner is 98€ per person. The price includes an aperitif cocktail, the whiskies, the dinner and water. Book your spot by email at visit@kyrodistillery.com.

The schedule: 
16.00 We open the doors
16.30 The Whisky tour (10€) starts. Please mention your willingness to participate on the tour when you book the dinner. The tour is not included in the Whisky Dinner price. 
18.00 Whisky Dinners starts.