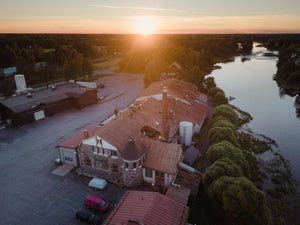 A distillery visit you'll never forget
A ryeful experience for your group is waiting. We arrange parties, conferences, meetings and even weddings all year round from Tuesdays to Saturdays. Even a meeting can be unforgettable in these surroundings.
Experience packages
Distillery tour 12€
Internationally awarded drinks are distilled in Isokyrö. Book a distillery tour for your group and we'll tell you all about Kyrö adventures from sauna to where we are now.
Tasting 23€
Join a ryeful journey in our guided gin and whisky tastings. We'll tell you all there is to know about Kyrö and the process of making the fine rye products.
Dinner package 75-90€
During the evening you'll enjoy our stories, tastes and scents. Kyrö dinner package includes a dinner from local ingredients, the distillery tour and a tasting. You should reserve about 4 hours for your full experience.
WHISKY TOUR 14€
The whisky tour guides you through the kyrö journey all the way from the sauna to the whole process of making whisky. You'll also get to visit our million liter whisky barrel storage.
Whisky tasting 26€
During the whisky tasting you can dive deep in the world of rye whisky. Five of our ryeful products are included in the tasting.
Cocktail school 20€
Want to learn how to make a perfect Whisky Sour or some other delicious ryeful classic? Welcome to a joint journey into the world of cocktails.
Create you own gin 20€
Create you own gin by mixing aroma distillates with the base gin. Once you have the mix of you dreams you can do it all over again to a different base. In the end we'll make a perfect Gin&Tonic out of it with the garnish of your liking.
Conference packages from 55€ per person
Kyrö conference package includes morning coffees with an appropriate savoury breakfast snack and the afternoon coffee include something sweet in between the hours from 9-16.

Our meeting facilities accommodate about 60 people. The facilities include a PC, projector, white board, audio and microphone. Also hybrid meeting are possible.