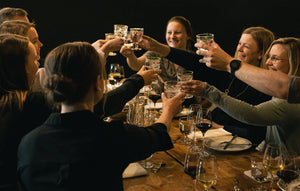 Spend a day at the distillery of delicacies
Tastes are our piece of pie
Our food philosophy is built upon local produce, seasonality and the concept of social dining.

It is important to us that our ingredients are from the nearby area, and we are personally acquainted with the producers. This is a great way to ensure our ingredients are of perfect quality.

Sustainability is a key part of all our processes. This is why we want to endorse local production.

We'll be happy to prepare a vegan meal on request.

Typically the tomatoes in our menu come from Närpiö, parsnips and carrots as well as the seabuckthorn from Ylistaro and the forest mushrooms are from Isokyrö. The chicken and the beef is from Isokyrö, Ylistaro and Nurmo. The eggs we use are ecologically farmen in Finland, the pike-perch from Vuoksi and Lappajärvi. our potatoes are from Jepua.

Our restaurant has the Green Key certificate on sustainable travel. This certificate includes all our restaurant processes.