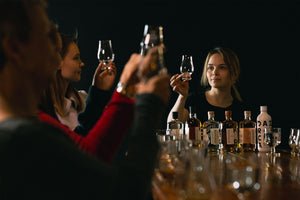 Taste our award winning ryeful products
Get to know our ryeful products in the guided gin and whisky tastings. The guided tasting will take you to a journey through Kyrö stories and development processes behind the tastes. 

Book your spot on the distillery tour and tasting in advance. The tour and tasting is in Finnish, if you would like to have the tour and tasting in English, please contact visit@kyrodistillery.com.
Our Visitor center and the restaurant are unobstructed destinations, but in order for us to make sure the experience is of superb quality for everyone, please mention your needs via email visit@kyrodistillery.com beforehand.

The duration of the tastings are about 45 minutes.
The gift cards for the Kyrö Distillery Company web shop are not accepted as payment at the Visitor center.
Book a Finnish tasting
€23,00

per person
Choose a date & time
The open spots for the distillery tours.
- Walk through our production processes and see how the products are made. The sweet scent of the whisky distillery is unforgettable.
- The duration of the tour is about 60-75 minutes and is arranged before the tasting. 
Distillery Tour
On the distillery tour we walk through the production process and you'll get to experience and see how we make our award winning products. The sweet scent of the whisky distillery is truly something unforgettable. You will also hear all the stories on how Kyrö came to be and what kind of adventures we have experiences during this journey.
Full info
Booking summary
Tasting
30 Sep 2023 14:30
× €23,00
Distillery Tour
30 Sep 2023 13:30
× €12,00