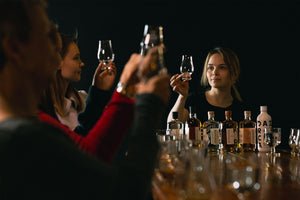 Taste our award winning ryeful products
Get to know our ryeful products in the gin and whisky tastings. The guided tasting will take on a culinary journey as well as hearing the stories behind the delicious tastes and scents. Learn how the development of the liquids have gone through the process from the beginning to the unforgettable products they are today. 

Book a spot for the distillery tour and tasting in before hand. During the summer season we arrange an English tour every Saturday at 18.30 and the tasting at 19.30. You can also contact us about exceptional times at visit@kyrodistillery.com
Our Visitor center and the restaurant are unobstructed destinations, but in order for us to make sure the experience is of superb quality for everyone, please mention your needs via email visit@kyrodistillery.com beforehand.
The gift cards for the Kyrö Distillery Company web shop are not accepted as payment at the Visitor center.
Somethig is wrong on our end.
Sorry for the inconvinience, but it seems that we have some problems in the booking settings. Please contact us if this problem persist.
CODE: 01 - Variant options