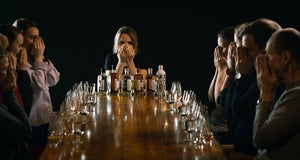 Christmas parties
for small groups 5.12.
nauti mieleenpainuvasta pikkujouluillasta tislaamolla
Nyt pääsisi upealle illalliselle, tislaamokierrokselle ja tastingiin 5.12., jolloin otamme vastaan vain alle 10 hengen ryhmiä.

Järjestämme illan aikana kaksi eri kattausta, johon voit varata paikat.

Ensimmäinen illalliskattaus klo 17:00, jonka jälkeen on yhteinen tislaamokierros ja tasting.

Toinen illalliskattaus klo 19:30, jonka jälkeen on yhteinen tislaamokierros ja tasting.
Don't worry, now you can have a delicious dinner, distillery tour and tasting on 5.12. also with a smaller group.
During the evening we will organise two dinners, for which you can reserve seats.The first dinner at 17:00, followed by a distillery tour and tasting.The second dinner at 19:30, followed by a distillery tour and tasting.

Menu:

Starters
Green salad with cranberries and rosemary vinaigret
Marinated yellow beets, funnel chanterells and broad pean cream
Rainbow trout tartar, cucumber and fennel
Organic beef from Heimola Farm, fried onions and currant jam

Main course
Caramelised smoky pork neck with thyme cream, poached potatoes and owen baked tarragon carrots

Dessert
Rise porridge pudding, Dairy Cream foam and applesyrup with cinnamon
Price 89 € per person including dinner, distillery tour and tasting. Please reserve about 4h for the visit. You are welcome to spend the evening alone, in a group of two or less than 10 people. For reservations email visit@kyrodistillery.com.

Please let us know which dinner you would like to reserve seats for when you make your reservation. A warm welcome to the ryeful experience!
tiedot ja varaus
Hinta 89 € /hlö sisältäen illallisen, tislaamokierroksen ja tastingin. Varaa vierailuun aikaa n. 4h.

Voit myös varata paikat pelkälle illalliselle.
Olet tervetullut iltaan yksin, kaksin tai alle 10 hengen porukalla. Varaukset sähköpostitse visit@kyrodistillery.com. Mainitsethan varauksen yhteydessä kumpaanko kattaukseen olet varaamassa paikkoja.

Lämpimästi tervetuloa rukiisten elämysten äärelle!